Barnhouse Rentals
Located by our organic working farm, the Barhouse rentals offer private retreats like none other in the area. A pastoral setting is the backdorp for pleasant rural living by the farm. Leave behind the hectic, fast-paced world and take pleasure in the sounds and smells of nature. Our rentals offer visitors the opportunity to get away from it all and to meet our critters and enjoy farm fresh eggs from our sassy hens. Relax on the porch or deck, take a nap, a walk or bike ride and enjoy the scenery. You're sure to get a glimpse of Southern small-farm life.
Only five miles west of Carrboro, we are an easy drive to Chapel Hill and historic Hillsborough, NC. The UNC campus and NC Botanical Garden are not far away, and Mapleview Farm Ice Cream Store is right around the corner. Two popular wedding venues, Snipes Farm Retreat and Rock Quarry Farm, are no more than a mile from our farm, so if you're in need of accommodations, please contact us.
We have two separate properties by the farm that we call The Barnhouse Cottage and The Barnhouse Too! Our rentals are considered extended stay for those in transition or relocating to the area. We do, however, offer short-term visits if the rentals are vacant*. Each comes fully furnished and fully equipped to make the transition smooth and easy. Your stay will be enhanced by the many comforts and unique features found in each dwelling that gives them a charm of their own. Very private.
*For short-term rentals, please see Rates and Reservations.
What We Require - Extended Stay

Two credit references or credit report required and deposit.
We accept cash, personal or traveler's checks.
County ordinance requires a minimum stay of three months.
We are your neighbors; thus, we seek tenants who will also make good neighbors: very quiet, clean, responsible and who understand and appreciate Nature and the rural value of the land. This is not urban living!
We provide basic staples to start you off (cleaning items and, of course, fresh eggs from our sassy hens). However, you are on your own to replace staples as you use them and when you leave. It is also your responsibility to recycle and remove trash, and we provide a map to the local recycling-dumpster center.
Each rental is smoke free inside and out, and a pet may be considered.
*Short Term Rental -- Rates and Reservations
$150 night -- three-night minimum, double occupancy*
Weekly: $800
Monthly: $1800 -- reduced rate for two months or more
*PLEASE NOTE: we require a four-night minimum for holidays, special events in nearby towns and at UNC (example: graduation, orientation, major sporting events...).
*Orange County occupancy tax (12%) and $50 cleaning fee not included in price.
*We require a nonrefundable deposit of $100 payable by check or money order to reserve your dates.
*Balance of payment is due upon arrival.
*All rates are based on double occupancy with a three-night minimum. There is an additional $20 per person per night for more than two people.
*Pet may be considered but there is a nonerefundable pet fee.
*All linens are provided for bedrooms and bath for short-term rentals up to two weeks. Those who stay beyond two weeks must provide their own linens.
less...
---
The Barnhouse Cottage more...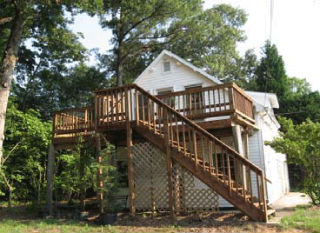 This rental is for extended stay tenants but will consider long term.
Our Barnouse Cottage comes fully furnished and fully equipped to provide you with a home away from home. The cottage has two bedrooms: upstairs has queen-sized bed (downstairs room has outside entrance only); one bath, and a large deck to view amazing sunsets. Open kitchen and spacious living/dining area. Central HVAC. WD on premises. The cottage is very comfortable and has plenty of charm.
Cottage is part of a twenty-acre market farm that grows/sells naturally grown produce. It is home to a variety of barnyard animals and wildlife. Therefore, we seek only responsible, employed (or retired) tenants who are quiet and friendly and appreciate all that Nature has to offer. We are approximately five miles west of Carrboro, seven miles from UNC campus and an easy drive to Durham and Hillsborough.
No smokers inside or out.
We prefer no pet but will consider (pet fee required and renter must agree to pet policies).
Extended stay requires three months minimum.
$1100 + utilities.
Deposit and two credit references (or credit report -- preferred)
All you need to move in are your clothes, linens and food.
Please: Serious inquiries only for immediate occupancy.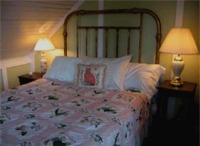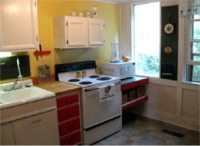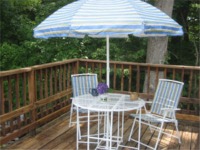 less...
---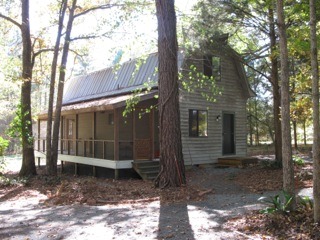 The Barnhouse Too! more...
Enjoy the rural nature of our charming two-bedroom/one bath house nestled in the woods on two acres. The house has upstairs "loft" bedroom with twin beds and a downstairs bedroom with a queen-size bed. A large "Southern" room with vaulted ceiling and open kithen with new skylight provides plenty of light throughout. Relax on the full-length screen porch or deck, and enjoy the natural surroundings and wildlife framed by oak, maple and walnut trees. Washer and dryer allows you to pack light, and our full kitchen has what you need to fix a meal and enjoy quiet evenings staying in.
Monthly Rent: $1350 includes utilities.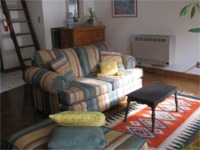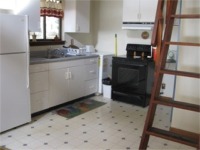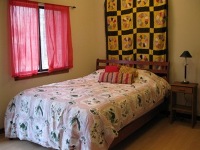 less...