GoFARM! Girls on the Farm!

Program begins on October 1.
GoFARM! in the Chapel Hill News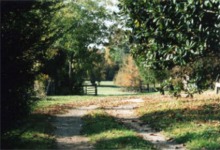 Genesis Farm Genesis Farm is a small market and educational farm designed to grow a variety of seasonal food and flowers and to care for domestic animals in a way that is natural and safe to the land and to the consumer. There is abundant wildlife that visits the pond and pastures, and many barnyard birds and mammals call the farm home.
Our educational outreach offers a variety of different ways to experience the rewards and challenges of operating a small sustainable farm. Foremost is the use of farming methods that teach respect for life and Nature and an understanding of healthy, nutritious food that tastes great.
We are proud to be the host farm for the charitable nonprofit, NC Women of the Land Agricultural Foundation and its educational programs for on-farm training, women of agriculture and adolescent girls (www.ncwolan.org).
We have many opportunities for learning about small-scale farm life both for those who have on-farm experience and those who just want to get their knees dirty for a few hours each week -- just being outside, contributing to notion of growing healthy food; sharing the challenges and the bounty of farming are all rewards in themselves.
We continue to offer group tours for kids and adults throughout the summer and fall. For those seeking more hands-on experience and further knowledge, we have an incredible intern program, and of course, we love our volunteers. We welcome all who have a love of gardening, animals, children and whimsical sense of humor.
Farm Internship Program
(click for more info)
If you want to get a taste of what it's like to work on a small sustainable farm, this is the program for you. Our internships are for those who want to become involved in the day-to-day rewards and challenges of working on the farm. Interns make a commitment to work two shifts per week, typically 6-8 hrs/wk, in return for on-farm training in small-scale agriculture. Two exciting new projects beginning this summer.
(internships...)
.
less...
*Here at Genesis Farm you can taste and feel the rhythms of nature.*
Genesis Farm is located in Orange County,
approximately six miles west of Chapel Hill, NC.